90 Degree Bend
Inquire Now
Introduction
Large size PE 90 degree bend is also known as PE 90 degree elbow. As a common connection fitting, it is used to change the direction of pipe and connect the pipeline in the corner. This elbow (90 degree) can be mainly used to connect hoses to valves, water pressure pumps and deck drain pipes. Large size 90 degree bend can be made from tough nylon material or NPT thread.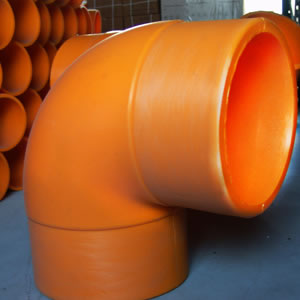 Classification
This type of PE 90 degree elbow can be classified into SR (Short Radius) elbows and LR (Long Radius) elbows.
1. SR elbow (Short Radius 90 Degree Bend) has a center-to-face dimension of 1.0 × diameter. They are typically used in tight areas where clearances are an issue.
2. LR elbow (Long Radius PE 90 Degree Elbow) has a center-to-face dimension of 1.5 × diameter. They are more common type and used when space is available and flow is more critical.
Technical Parameters of 90 Degree Bend

Large Size PE 90 Degree Elbow
Dn (mm)
450
500
630
Established in 1992, Jilin Songjiang Smart Joint Co., Ltd. is the first enterprise engaged in research and development of plastic pipe fusion welding technology and products in China. Now we mainly produce large size 90 degree bends, hot melt elbows, electrofusion fittings, butt fusion welding machines, electrofusion welding machines, fusion welding machine kits, and so on. Since its establishment, it has gained CE Certification, Sanitary License, China Special Equipment Manufacturing License and ISO9001-2000 Quality System Authentication. If you are interested in our PE 90 degree elbows, please feel free to contact us.
Inquire Form
Injection Molding FittingsLarge size injection molded fittings are even tougher than the pipe. After injection molding, HDPE pipe fittings have a wall thickness 125% larger than SDR18 pipe. They provide superior performance over metal plumbing...