Injection Molding Reducer Fittings
Inquire Now
Introduction
Injection molded pipe reducer is made though high impact strength, fairly high heat distortion and excellent molding and extrusion. Our PE reducer fittings can be available in standard sizes. Large size injection molding reducer fittings can be up to four inches. Smart Joint Company also provides 45 degree elbows, 90 degree elbows, joints, couplings, reducer couplings, flanges, and so on.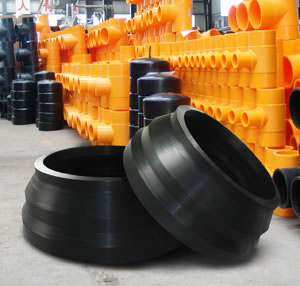 Feature
1. Large size injection molded pipe reducers are light.
2. This kind of PE reducer fitting is featured with corrosion, biological and chemical resistance.
3. In addition, it has the features of large flow capacity.
4. Smart Joint Company has been engaged in manufacturing injection molded pipe reducers for more than 20 years. They have won widespread praise and recognition by customers both home and abroad.
Technical Parameters

Large Size Injection Molded PE Reducer Fitting
Dn (mm)
Dn (mm)
450 × 400
630 × 500
500 × 400
630 × 560
500 × 450
710 × 630
560 × 400
800 × 630
560 × 450
800 × 710
560 × 500
900 × 800
630 × 400
1000 × 800
630 × 450
1000 × 900
Jilin Songjiang Smart Joint Co., Ltd. is a professional manufacturer and supplier of injection molded pipe reducers in China. In addition to this kind of PE reducer fitting, we also produce electro fusion welding machines, electrofusion fittings, butt fusion fittings, butt fusion welding machines, PE transitional fittings, fusion welding machine kits, stub flange fittings, and so on. With high quality assurance, our injection molded pipe reducers are exported to the United States, UAE, Egypt, Australia, Brazil, Poland, Germany, Canada, Malaysia, New Zealand, Iran, Israel, Japan, and so on. If you are interested in our large size PE reducer fittings, please feel free to contact us.
Inquire Form
90 Degree BendLarge size PE 90 degree bend is also known as PE 90 degree elbow. As a common connection fitting, it is used to change the direction of pipe and connect the pipeline in the corner. This elbow (90 degree) can...