AH-Ⅱ Electrofusion Welding Machine
Inquire Now
Description
AH-II electrofusion welding machine is a fusion machine with compact appearance. It is convenient and easy to move. It is also known as electrofusion welding box because it is often shaped like a small box. The operator even can use it on his shoulder. In addition, we also supply DH-Ⅱcode reading electrofusion welding machine.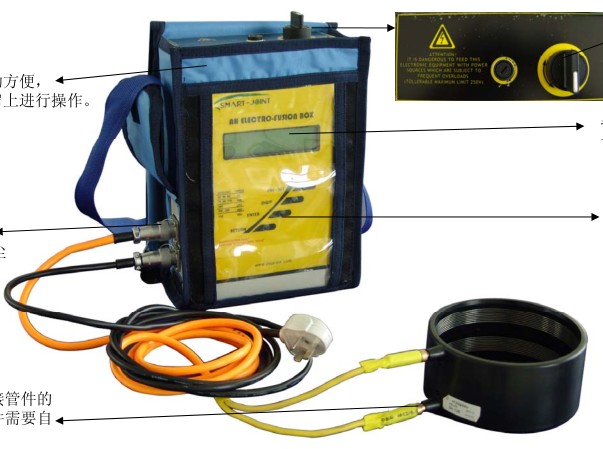 Features
1. AH-II electrofusion welding box is configured with control panel that is concise and easy to understand. We can input welding time manually by pressing the button.
2. The backlit LCD can display multilingual interface.
3. This kind of electrofusion welding machine has knob switch for emergent stopping of power supply and fuse for operation safety.
4. Power sockets and output line sockets of our electrofusion welding boxes are fitted with rubber sheath, which can avoid dust and rain entering into the socket.
5. Output plug and binding post for connecting pipe fittings can be freely replaced according to the need of pipe fittings.
Parameters of AH-ⅡElectrofusion Welding Machine

AH-ⅡElectrofusion Welding Box
Working Power Supply
Single Phase 220V AC
Frequency
50Hz
Power
1 kW
Fusion Range
Φ50 mm to Φ250 mm
Socket Size
Φ2.5 mm, Φ4.0 mm
Moisture
70%
Environ Temperature
-5℃ to 40ºC
Overall Dimension
264 × 184 × 96 (mm)
Weight
1.6 kg
The box is only for sewage system. AH-II electrofusion welding machine is designed with small volume and light weight and is easy for transportation. The operator can operate the machine easily.
Founded in 1992, Jilin Songjiang Smart Joint Co., Ltd. is the first manufacturer to develop fusion machines and pipe fittings in China. Since its establishment, it has gained CE Identification, Sanitary License, China Special Equipment Manufacturing License and ISO9001-2000 Quality System Authentication. Our products include electrofusion welding boxes, butt fusion machines, electrofusion fittings, butt fusion fittings, fusion welding machine kits, and so on. If you want to know more information about our electrofusion welding machines, you can visit our websites directly or contact us freely. We are looking forward to cooperating with you.
Inquire Form
DH-ⅡCode Reading Electrofusion Welding MachineDH-II electrofusion welding machine is a kind of code reading welding machine used to weld plastic PE and PPR pipes with the size between 20 mm to 400 mm. This machine is suitable for different brands of...