Electrofusion Sleeve Fittings
Inquire Now
Introduction
Electrofusion sleeve fitting can be applied to municipal engineering, oil and gas field, chemical industry, metallurgical mine, sea water delivery, ship manufacturing, agricultural irrigation, and so on. This type of electrofusion fitting is suitable for delivering some corrosive gas and liquid. It can also be used as solid powder process pipe and discharge pipe.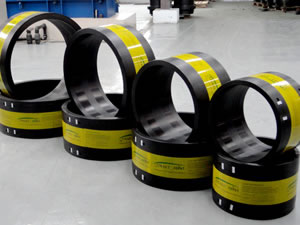 Features of Electrofusion Sleeve Fittings
1. Corrosion
PE is an inert material that is resistant to a variety of chemical medium erosion. With no electrochemical corrosion, this kind of electrofusion fitting does not need the anticorrosion layer.
2. No Leakage
Compared with the rubber sealing joints or other mechanical joints, our electrofusion sleeve fittings mainly use PE material for connection. There is no risk of leaks.
3. High Toughness
PE gas pipe is a kind of high toughness tube. The elongation at break is generally more than 500% on the base of the tube for uneven settlement is very adaptable. This electrofusion fitting possesses excellent anti-earthquake performance.
4. Excellent Flexibility
Electrofusion sleeve fitting can be coiled up and can be used for notching construction. It can be adjusted according to customers' specific requirements. Generally, black or yellow color or other colors are available as per the customer's requests.
Technical Parameter of Electrofusion Fittings

Large Size Electrofusion Sleeve Fittings
Dn (mm)
450
500
560
630
710
800
Founded in 1992, Jilin Songjiang Smart Joint Co., Ltd. is a leading manufacturer of electrofusion sleeve fittings in China. Since its establishment, it has gained CE Identification, Sanitary License, China Special Equipment Manufacturing License and ISO9001-2000 Quality System Authentication. Our products include butt fusion welding machines, electrofusion welding machines, fusion welding machine kits, electrofusion fittings, butt fusion fittings, and so on. If you want to know more detailed information about our electrofusion sleeve fittings, you can visit our websites directly or contact us freely.
Inquire Form
Electrofusion ReducerElectrofusion reducer is made from special material for PE pressure pipeline. This kind of HDPE reducer can be used with SDR11 or thicker HDPE pipe and fittings. Electrofusion reducing coupling is extensively ...