HDPE Straight Transition PipeAs a kind of HDPE transition pipe, HDPE straight transition fitting are used to connect ductile iron pipes with same outside diameter. The pull-out strength of our straight transitional pipes is larger than the PE...
HDPE Elbow Transition FittingsHDPE elbow transition fittings are widely used to gas and water infrastructure projects. This kind of HDPE transition pipe is mainly used for pipe connection and repair work. It can connect most pipe materials...
HDPE Transition Pipe
Description
Smart Joint Company developed HDPE transition pipes in 1997 and gained the national patent. It can be used to transport gas. With thicker metal pipe and high-quality PBE coating, HDPE transition fittings have a life pan of 50 years. The largest pipe diameter of HDPE transition pipes manufactured by our company is up to 450 mm.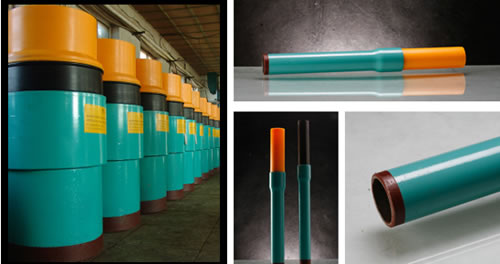 Competitive Advantages
1. All HDPE transition fittings are designed in embedding style structure, which provides enough magnitude of interference, makes the interface get better air tightness and prevents fittings from bending.
2. Our HDPE transition pipes are of smooth inner wall, corrosion resistance, simple installation, large flow capacity and long service life.
3. HDPE transition fittings are practical, reliable and distinctive. They are environmental friendly products that can replace those pipes made from high energy consumption materials (cement, iron, ceramics, etc.).
4. Smart Joint Company possesses more than 20 years' experience of manufacturing HDPE transition pipes.
Technical Specifications
Conform to Standards:
GB 26255.1-2011
ISO 10838-1: 2000(E)
ISO 10838-2: 2000(E)
For more detailed information about our HDPE transition fittings, please click followed link to download the PDF file and read it with Adobe Reader.
PE METAL TRANSITIONAL FITTING.pdf
Types of HDPE Transition Pipes
1. HDPE StraightTransition Pipe 2. HDPE Elbows Transition Fittings
Jilin Songjiang Smart Joint Co., Ltd is the first manufacturer to develop fusion machines and pipe fittings in China. Our products include HDPE transition fittings, butt fusion welding machines, electrofusion welding machines, electrofusion fittings, butt fusion fittings, fusion welding machine kits, and so on. They can be used in various fields, such as water and gas supplying, dewatering, irrigation, sewage treatment, etc. By the technical advantage, we will design and develop new products constantly. Our HDPE transition pipes have won widespread praise and recognition by customers both home and abroad. If you are interested in our HDPE transition fittings, please feel free to contact us.