Irrigation Fittings
Inquire Now
Description
Irrigation fittings made by Smart Joint Company are characterized by good workability, impact resilience and small flow resistance. They also enjoy the advantages of light weight, good toughness, low temperature resistance and ageing resistance. This type of HDPE fitting is black in order to prevent light through the wall into the tube, absorb ultraviolet light, slow down the aging process and enhance the ageing resistance.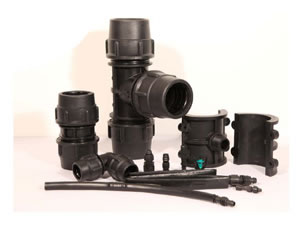 Advantages of Irrigation Fittings
1. This HDPE fitting for irrigation is of high efficiency and good stability.
2. It owns smooth internal and external walls with no sharp burr and no color difference. The pipe wall is thicker so it can withstand high pressure.
3. Irrigation fittings are resistant to heat and low temperature.
4. The bell-and-spigot that is the part to connect to pipes is long enough or deep enough.
5. Adopting this kind of HDPE fitting, you can get the most precise irrigation, the lowest energy consumption and high irrigation uniformity.
6. Irrigation fittings are of easy installation and simple operation.
7. It is of high efficiency and water saving. The water saving amount is more than 75%.
Features
1. Non-toxic
PE pipe material that has been tested through strict health monitoring is non-toxic. This type of HDPE fitting will never scale, which can effectively improve the water quality.
2. Low Flow Resistance
Irrigation fittings have smooth inner wall, making it easy for pipeline transportation. Under the same condition, delivery capacity can be increased by 30%, because roughness is much less than that of steel pipe and glass reinforced pipe.
3. No Leakage
PE pipe is connected in the ways of butt fusion, socket fusion and electro fusion. With our HDPE fittings, the strength of joint point is higher than tube itself.
4. Excellent Flexibility
Irrigation fittings have excellent flexibility. Pipes could be bended and the rubber flexible connectors will be reduced if they are used as dredging pipes.
5. Good Resistance Ability for Scratch
The wear resistance of PE pipe is 4 times as that of steel pipe, which means PE pipe has longer service life and better economical efficiency.
6. Convenient for Construction
HDPE fittings for irrigation are featured with good sealing performance and easy construction. PE pipes could be installed in a variety of trenchless ways, so it is very convenient for construction and installation.
7. Long Service Life
Our irrigation fittings have at least 50-year life span.
8. Lower Maintenance Costs
PE pipe is not only convenient to transport and install, but also greatly reduces the worker's labor intensity, improves the work efficiency and solves the bubble problem during the injection.
9. Environment Impact
HDPE fittings for irrigation are recyclable and environmental friendly.
Jilin Songjiang Smart Joint Co., Ltd. is the first manufacturer to develop fusion machines and pipe fittings in China. Our products include irrigation fittings, butt fusion welding machine, electrofusion welding machine, electrofusion fittings, butt fusion fittings, fusion welding machine kits, and so on. They can be used in various fields, such as water and gas supplying, dewatering, irrigation, sewage treatment, etc. By the technical advantage, we will design and develop new products constantly. Our HDPE fittings have won widespread praise and recognition by customers both home and abroad. For more detailed information about our irrigation fittings, please visit our websites directly or feel free to contact us.
Inquire Form
Electrofusion Branch SaddleElectrofusion branch saddle, also called electrofusion straight saddle, is a kind of plastic pipe saddle fitting. It is used to create branches within the PE pipeline system. It adopts PE100, SDR11 or PN16 material...