Injection Molding Fittings
Inquire Now
Description
Large size injection molded fittings are even tougher than the pipe. After injection molding, HDPE pipe fittings have a wall thickness 125% larger than SDR18 pipe. They provide superior performance over metal plumbing parts for plumbing. Possessing more than 20 years' production experience, Smart Joint Company is capable of supplying custom-made injection molded fittings according to customers' specific requirements.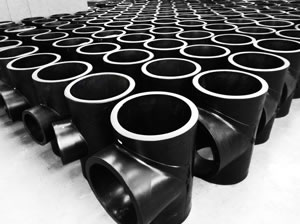 Competitive Advantages
1. Corrosion-Proof Performance
Injection molded HDPE pipe fittings are immune to corrosion from aggressive soils and galvanic action.
2. Superior Hydraulics
Glass-like finish of injection molded fittings reduces friction losses and eliminates the tuberculation common formed in iron pipes. As a result, pumping costs are reduced and water quality is maintained.
3. Strength
Injection molded HDPE pipe fittings are robust enough to withstand high pressure.
4. Reasonable Price
Our high-quality injection molded fittings are sold at reasonable prices, which make them well received by customers both home and abroad.
5. Certification
Injection molded HDPE pipe fittings have gained CE Identification, Sanitary License and ISO9001-2000 Quality System Authentication. They cover a wide range of applications.
Technical Parameters

Large Size Injection Molded Fittings
Dn (mm)
Dn (mm)
450 × 250 × 450
630 × 500 × 630
450 × 315 × 450
450 × 450 × 450
500 × 315 × 500
500 × 500 × 500
500 × 400 × 500
630 × 630 × 630
630 × 450 × 630
Jilin Songjiang Smart Joint Co., Ltd. is the first manufacturer to develop fusion machines and pipe fittings in China. Our products include HDPE pipe fittings, butt fusion welding machine, electrofusion welding machine, electrofusion fittings, butt fusion fittings, fusion welding machine kits, and so on. They can be used in various fields, such as water and gas supplying, dewatering, irrigation, sewage treatment, etc. By the technical advantage, we will design and develop new products constantly. Our injection molded fittings have been sold to the United States, UAE, Egypt, Australia, Brazil, Poland, Germany, Canada, Malaysia, New Zealand, Iran, Israel, Japan, and so on. For more detailed information about our HDPE fittings, please feel free to contact us.
Inquire Form
Injection Molding Reducer FittingsInjection molded pipe reducer is made though high impact strength, fairly high heat distortion and excellent molding and extrusion. Our PE reducer fittings can be available in standard sizes. Large size injection...