45 Degree Electrofusion Elbows
Inquire Now
Description
Electrofusion 45° elbow is used for connecting all specifications of pipes that are made of same materials. In the piping system, it is also used to change the direction of pipe fittings to resist pressure and corrosion. As a result, this electrofusion elbow has a long service life. This type of PE fitting is featured with resistance high pressure, corrosion resistance and easy handling. Electrofusion 45° elbow is extensively used in petrochemical, oil and natural gas, liquefied petroleum gas and other industries. In addition, Smart Joint Company also provides 90 degree electrofusion elbow.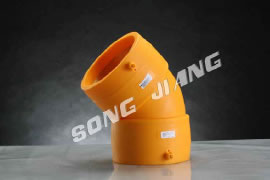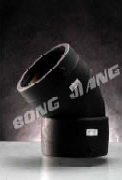 Features
1. Electrofusion 45° elbow possesses reliable connectivity, high interface strength, good airtight performance and stable welding performance.
2. This kind of electrofusion elbow is easily welded and operated and conveniently used.
3. It is not easily affected by changes in environment temperature or human factors.
4. The hidden spiral heating wires buried inside can effectively resist oxidation and rust corrosion, ensuring stable welding performance.
5. Our electrofusion 45° elbows are characterized by low cost and less maintenance.
Jilin Songjiang Smart Joint Co., Ltd is a professional manufacturer and supplier of electrofusion elbows in China. In addition, we also produce butt fusion machines, butt fusion fittings, electrofusion fittings, butt fusion welding machines, electrofusion welding machines, fusion welding machine kits, and so on. With high quality assurance, our electrofusion 45° elbows are exported to Algeria, UAE, Egypt, Australia, Brazil, Poland, Denmark, Germany, Canada, Libya, Malaysia, the United States, Peru, Turkey, New Zealand, Iran, Israel, Japan, etc. If you want to buy electrofusion elbows, please feel free to contact us. We are looking forward to cooperating with you.
Inquire Form
90 Degree Electrofusion ElbowsIn a pipeline system, 90 degree electrofusion elbow or electrofusion 90° elbow is used to change the direction of the pipe fittings. It can be made of carbon steel, stainless steel, alloy steel, PVC, steel, etc. In our company...