Electrofusion Reducing Tee
Inquire Now
Description
Electrofusion reducing tee is a kind of electrofusion tee that the diameter of branch pipe is smaller than that of the main pipe. It is used at the branch pipe of the main channel. This pipe fitting is applied extensively in gas, plumbing, irrigation and industrial processing applications. The pressure of electrofusion reducing tee ranges from 16 kg to 600 kg. The reasonable design of our complete range of electrofusion tees can meet various demanding requirements.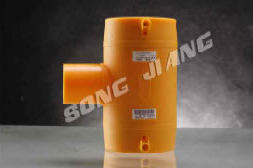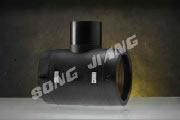 Application
Electrofusion reducing tees are widely used in the construction and maintenance of the works of the petrochemical, oil and natural gas, liquefied petroleum gas, fertilizer, power plant, nuclear power, shipbuilding, paper, pharmaceutical, food hygiene, urban construction and other industries.
Jilin Songjiang Smart Joint Co., Ltd. is a leading manufacturer to develop fusion machines and electrofusion tees in China. Our products include butt fusion welding machine, electrofusion welding machine, electrofusion fittings, butt fusion fittings, fusion welding machine kits, and so forth. Our electrofusion reducing tees have exported to the United States, Germany, Canada, Australia, Algeria, UAE, Egypt, Brazil, Poland, Denmark, Libya, Malaysia, etc. By the technical advantage, we will design and develop new products constantly. For more detailed information about our electrofusion tees, please feel free to contact us.
Inquire Form
Electrofusion Equal TeeThe electrofusion fitting with same diameter is known as electrofusion equal tee. It is used for connecting homogeneous pipes with various specifications. There are three links of the equal tee junction. This...